Hokkien mee, the dark, oily and sinful dish that one can forgive over and over again.
This century-old dish has its roots in downtown Kuala Lumpur, the irony of it considering Kuala Lumpur was a predominantly Cantonese area back in the early 1900s.
Today, one of the best known Hokkien mee place in town is Ahwa Hokkien Mee off Jalan 222, behind the Shell station.
But, Ahwa Hokkien mee has also been quietly thriving in one of Subang Jaya's oldest coffee shop, Restoran Kwai Sun in SS15. At the very back of the shop, written in Chinese, you will notice the name on the stall is the same as the famous Ahwa Hokkien Mee place in Jalan 222.
The chef, Ah Sang, is actually the younger brother of Ahwa Hokkien Mee's founder. He learnt the art of Hokkien mee from his brother and has been frying away in this same stall for over 20 years.
Ah Sang revealed that his Hokkien mee noodles are also flavoured with flounder fish (dadi yu) which is imported from Hong Kong roasted to a crisp and ground into fine powder to add flavour to the noodles. Not forgetting deep fried pork lard, we watched in awe as he deep fried a huge heap of lard.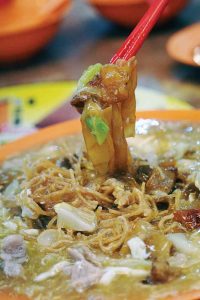 If you go at night, stand back and enjoy the show of fiery glowing charcoal amber flying through the air as Ah Sang whips his pan over the charcoal fire. It's like watching a kungfu demonstration by a grandmaster. This is what makes a Hokkien mee fried over a charcoal fire different from a home cooked version. The "wok hei" flavour. The burnt, fragrant flavour achieved through high heat, oil and frantic tossing.
We also tried the yin yong and Cantonese fried yee mee. Hokkien mee still came out tops. Our friend, Jia Hui, who is on a mission to lose weight and swore that she would only eat just a bit, was of course the last person to finish eating as she polished up the plates of noodles. Great place to sabotage a friend's diet plans.
Prices are RM9 per portion, fair price given that nothing is cheap in Subang Jaya anymore, especially in the heart of SS15.
We left smelling like we came from a BBQ party. Don't hang around the charcoal stove too long, or you end up "wok hei" too.
Restoran Kwai Sun is located on the same row as KFC in SS15. Address No. 5G &7G, Jalan SS15/4G. The stall opens daily from 11am to 11pm, closing on a Thursday every fortnightly.
Know of any other good Hokkien mee places in and around Subang Jaya? Drop us a line at [email protected]
The author, Adrian Lim, is a lifelong Subang Jaya resident, calls himself a makanthon-er who enjoys trying out new food joints. Reviews are unsolicited.