A huge moon, to be precise a 10-meter moon descended on the front yard of Summit USJ, just in time to celebrate the Mid-Autumn Fest last month.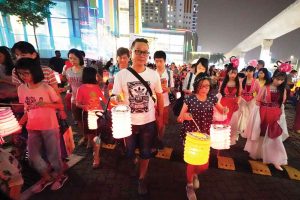 The moon brought along free mooncakes and 1,000 lanterns for the community when they congregated at the shopping mall for the annual Mooncake Festival and Lantern Parade.
ADUN Subang Jaya Michelle Ng led the walkabout with lanterns with MPSJ councilor for Zone 3 Lee Jen Uyin accompanying her. The darkened area of the mall entrance was immediately illuminated as children and adults alike took their colourfully lit lanterns around.
Earlier in the day a lantern painting contest was held to bring the creativity out of the participants.