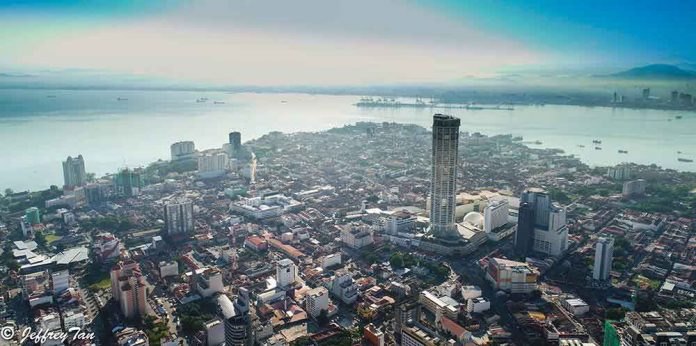 KUALA LUMPUR, Aug 1 (Bernama) — Menara Komtar Pulau Pinang emerged as a winner for Energy Management in Building (Large) Award in the Energy Efficient category, during the inaugural National Energy Awards (NEA) ceremony, here tonight.
Meanwhile, for four other winners in the same category, Menara TM, MITC Melaka won the Energy Management in Bulding (Small) Award; Environmental Preservation and Innovation Centre (EPIC), Negeri Sembilan (Green Building), CSC Steel Sdn Bhd, Melaka (Energy Management in Industry (Large) and KLIA2, Sepang for Energy Efficient Design Award.
The winners in the Energy Efficiency category was awarded for implementing energy efficiency measures in buildings and industries through innovative design.
Meanwhile, for Renewable Energy category, Cypark Resources Sdn Bhd and FGV Palm Industries Sdn Bhd won the National Grid and Local Grid Award respectively, for applying renewable energy technology on the electric grid.            The awards ceremony was organised by the Ministry of Energy, Science, Technology, Environment and Climate Change (MESTECC).
"As we received an overwhelming response of 145 applications, this indeed demonstrates the growing and confidence of businesses and institutions in Malaysia in adopting sustainable practices in their operations," said Energy, Science, Technology, Environment and Climate Change Minister Yeo Bee Yin in her speech at the NEA gala dinner and awards presentation.
She added, greater efforts and commitment would also be undertaken to increase the capacity of Renewable Energy in our generation capacity through the existing programmes such as Net Energy Metering scheme and Large Scale Solar (LSS) programme.
As Malaysia had produced approximately 370 million tonnes of carbon dioxide, Yeo said much efforts needed to be done especially regarding the carbon footprint.
"Decarbonising through energy efficiency is among the measures that MESTECC is vigorously working on, as it addresses both the issue of cost-effectiveness and emission reduction," she said.
Meanwhile, Merit Awards were given to Menara KEN, KUB Berjaya Sdn Bhd, Gan Teng Siew Realty Sdn Bhd, Mattan Engineering Sdn Bhd and Amcop Perting Hydro Sdn Bhd.
MESTECC also selected Gerbang Alaf Sdn Bhd, ZOG Engineering Technology, Malaysian Green Technology Corporation and SIRIM Berhad for Special Submission to ASEAN Energy Awards which would be held in Bangkok, Thailand next year.– BERNAMA